Business and Personal Coaching
Get Help with A Project – or Your life
What do I do?
I help people create/change their future by making them uncomfortable enough with their present situation to enable change.
I help individuals identify a future, develop a plan and benchmarks, and provide encouragement, consultation and coaching as they work towards the goal.
Why work with me?
I bring unique life experiences, training and an outlook on life. I offer fresh perspectives to help break comfort zones, old habits and introduce critically important new thinking necessary to achieve and manage difficult life transitions and changes. Invest in me as a partner and change your life or your money back.
What can clients expect?
Clients entrusting themselves with me will quickly feel a sense of complete caring, understanding and willingness to do whatever is needed in the way of support, encouragement, motivation and help.
They will also quickly realize an empathy and understanding of the values, principles and work required and necessary to achieve life changes. They will see a strong intuitive understanding of their needs and wants and an ability and willingness to communicate openly and honestly with no agenda other than the needs as defined in the process.
Clients will be motivated to move forward with a fresh perspective, a strong emotional and motivational support and an intimate understanding of the process required.
What will happen?
More Focus – People know where they are going and what it takes to arrive by concentrating on what's truly important in business, in people and in life.
More Commitment – Full investment into process and goals
More Energy – Less Stress. Energy sponges go away. Situations and people are dealt with more effectively
More Direction – Seeing the possibilities and knowing which path is best
Focus + commitment + energy + direction = Huge Steps towards Your Goals!
We work on the phone in scheduled calls.  Contact me to get something done – or to change your life.
"Executive coaches are not for the meek. They're for people who value unambiguous feedback. All coaches have one thing in common, it's that they are ruthlessly results- oriented." FAST COMPANY Magazine
"If ever stressed-out corporate America could use a little couch-time, it's now. Trust in big companies is at an all-time low. Baby-boomers have been burned; Gen Xers aren't expecting the Corporation to take care of them. Under the circumstances, employees are much likelier to go outside and get independent advice to help them be better managers" Karen Cates, Assistant Professor of Organizational Behavior, Northwestern's Kellogg Graduate School of Management.
Bob Nardelli (CEO of Home Depot) believes that without a coach, people "will NEVER reach their maximum capabilities".
"Between 25 percent and 40 percent of Fortune 500 companies use executive coaches"  Recent survey by The Hay Group, an International Human Resources consultancy
"I never cease to be amazed at the power of the coaching process to draw out the skills or talent that was previously hidden within an individual, and which invariably finds a way to solve a problem previously thought unsolvable," John Russell, Managing Director,Harley-Davidson Europe Ltd.
"Asked for a conservative estimate of the monetary payoff from the coaching they got,these managers described an average return of more than $100,000, or about six times what the coaching had cost their companies."  Fortune, 2/19/01, "Executive Coaching —
With Returns a CFO Could Love"
"Coaching is the number two growth industry right behind IT (Information Technology)jobs, and it's the number one home-based profession." Start-Ups Magazine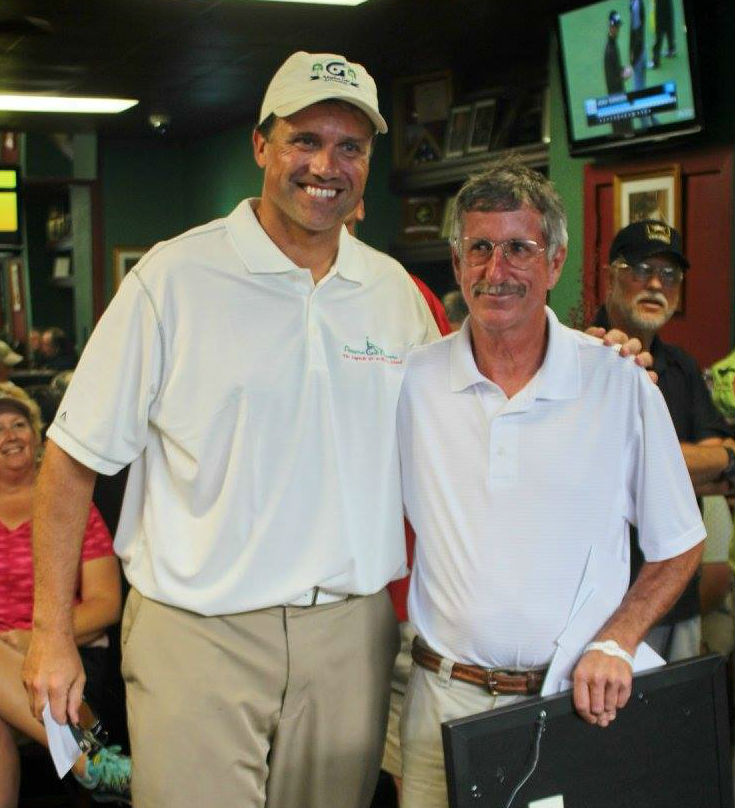 1st Annual Veteran Golf Tournament. We raised $20,000.