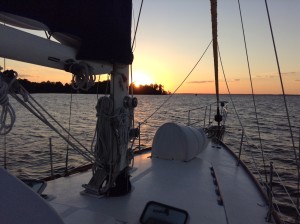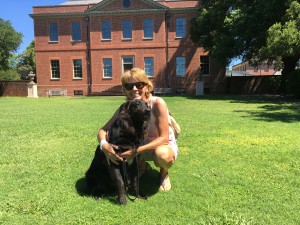 We begin in New Bern NC, a beautiful town we liked a lot (highly recommended for a visit!). We played tourists for several days visiting Tryon Palace where the royal governor of the great colony of NC lived, and the governor of the state of NC before they moved the capital further west.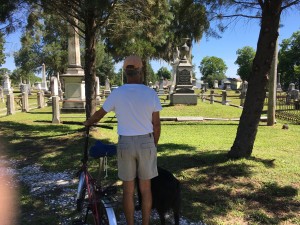 Bicycles are very handy allowing us to cover way more ground than walking, and Goose gets lots of exercise. The cemetery in New Bern was amazing.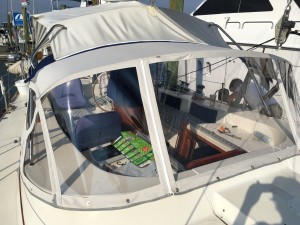 Some work did get done including finishing up the new dodger and fixing the broken ipad glass (again). As you can see in th picture it does take some nerve-steadying medicinal support to accomplish!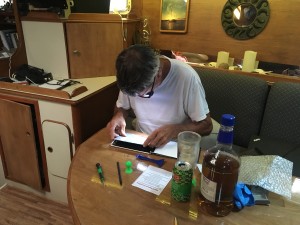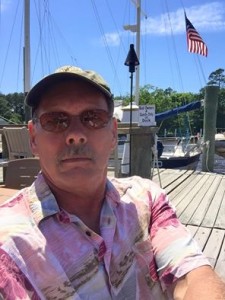 Steve Karr, a friend from US Navy Nuc Sub days (40 years ago), and someone I haven't seen in 20 years or more, replaced Shelly as crew for 10 days.
As a neophyte sailor he experienced many different aspects of our life aboard, from the flat, mirror-like motoring with no wind to the thunderstorms gusting to 30 kts to the three days of 25 knots at a dock.
Our first day was just 23 miles to Oriental. We got there at 830pm and all four places to eat were closed already!
The following morning we headed out into a strong thunderstorm for the 40 miles to Ocracoke Island on the Outer Banks. The storms passed on by and we enjoyed a very nice day of sailing and motoring and catching up.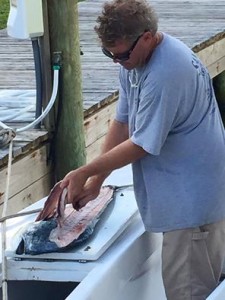 From Ocracoke it was only 18 miles to Hatteras where we docked overnight in the middle of a Blue Marlin fishing tournament fleet (largest of the the day was 650 pounds) and left with some new friends and a whole freshly filleted mahi mahi. (That sure was tasty with Shelly's mayo and parmesan recipe!)
With winds forecast to go to the NE and blow up to 50 knots (never happened) we beat feet north the 45 miles to Manteo, NC on Roanoke Island where the Lost Colony was – well – lost. Cool downtown area.
We got docked just before it started blowing – and it blew for the next 48 hours or so fairly hard. We were glad to be at a dock!
Yesterday we got underway around 830 to a beautiful clear day for the 55 miles up through Albemarle Sound and into the Albemarle-Chesapeake Canal with a nice stop at Coinjock for their famous 32 oz prime rib.
Today we head on into Norfolk and through there to Fort Monroe to finish up this leg. We leave the boat Wednesday to drop Steve in Charlotte for his flight home and then on the Marion to pick up Shelly and see Ryan off to his new home.
Life is perfect!
Enjoy the video!

Testimonial
The Legends GC at Parris Island conducts over 100 annual outings and I can honestly say that, throughout my 11 years here as the Head Professional, I have never seen anyone work as hard or as passionately for their event like the two of you do. It is hard enough for a local Beaufortonian to generate the people and sponsors needed for a successful event…much less someone from out of the area. And yet you've done it for two straight years!! As a golf professional, I know how hard it is to run outings, but I'm confident that either one of you could take my place if needed. In fact, if I ever have someone ask me what it takes to conduct a successful fundraiser, I am going to give them your email address. - Andy Henson, Head Pro Legend's Of Parris Island Golf Course.
Post Categories
Articles