There is great pleasure in being debt free, with no bills to speak of (not even mail service, thanks to Shelly's mom!) with freedom to go in any direction, at any time, with anyone, and stop for the night in any of thousands of parks, camps, wineries, and more – and have our home with us. It is a wonderful feeling!
This feeling is amplified at the end of a 6 month 'project' dedicating all of one's time to a stated goal, and to complete that goal and get underway again.
So, we pull out of Islamorada in the Florida Keys and turn east and north. To all our friends who ask why we would leave paradise in the middle of winter and head north – our answer is paradise is only paradise when you have comparison to something else!
For the next month at least (that is today!) we will meander around Fl, GA, AL, and MS traveling no more than 50 miles every couple of days just exploring.
It was surprising to find how much time it took to 'settle down' and not 'go to work'. It took two weeks!
First we had some visiting to do with old friends (and that term "old friends" is becoming more true every year!) in Palm Beach and Sebastian FL before we headed west across southern Fl towards Lake Kissimmee SP. Here we met a family of deer that kept crossing our paths (literally) as we started up our hiking again. An easy three miles here with an amazing dinner of crab cakes on the fire.
Then, another gem we stumble into. Bok Tower Gardens.  An amazingly well crafted tower housing a beautiful 205 ft Carillion bells and 250 landscaped acres. Beautiful!
We really like Florida's west coast! Much quieter and laid back. Homosassa Springs is a very small town we could almost live in! The manatees love the year round 72 degree springs here that bring 1,000,000 gallons of fresh water a minute to the gulf!
A couple of state parks later got us to Valdosta and Thanksgiving with the boys. We are so blessed!
From Valdosta we headed south and west towards Tallahassee on back roads. We try to stay off the interstate wherever possible and absolutely love seeing the country from 2 lane roads. Some of most memorable finds have been accidently made by wandering around.
Just west of Tallahassee, we found a little campground on a lake that had a snow white squirrel. While we were wondering how a squirrel would get white like that, we started seeing white squirrels everywhere! Apparently they are sort of famous around here! Something new to us!
That evening strange creaking noises in the RV got me out on the dark to find broken shackles on the suspension springs. Oops. Don't want axles falling off! The next morning we also found we had picked up a nail in a tire and it was completely flat. Why does this stuff happen on the weekends and holidays? No worries as we found parts not too far away and a semi truck emergency tire guy 1 mile down the road who came out and helped me jack it up and make repairs. Then he just wanted a tip since he lived so close!
On to Panama City and St Andrews SP right on the inlet and the beach. Magnificent beaches and because it was a bit chilly we had them all to ourselves!
After a couple of off the path stops (a lavender farm, then a house north of Pensacola where a nicer lady was attempting to build a self-sustaining farm) we were on to a great find just north of Mobile at Blakely SP and battlefield. We did not know about the history. Watch the video for more. We hiked a lot here. One day we did 11.5 miles. Sore feet!
The battleship USS Alabama is the main attraction at the park in Mobile and we were honored to spend a cold, blustery Pearl Harbor day exploring the ship, the submarine USS Drum (I served in the nuclear subs in the Navy!) and lots of planes and other military pieces outside. Well worth the visit. Like everywhere else they are still cleaning up from the massive damage from several hurricanes all the way back to Katrina.
Of course we had to spend a day at Dauphin Island and ride the amazing beaches there before moving on the Pascagoula, Mississippi and Shepard SP. This is another of those awesome places we stumble into. Great trails, remote campsites, and not very many people.
Oysters from the bay on the half shell for lunch made the day!
It's time to start back east and north for the holidays in NC and GA so we turn around although Texas is pulling at us hard!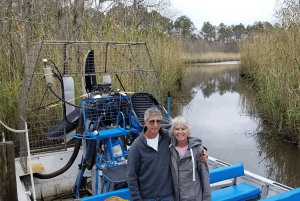 We pulled into a small parking lot at the Gulf Coast Gator Farm for the night on a drizzly, overcast day.  Behind some wood fencing that looked like it would fall down any minute we found about 50 alligators! There were gators there 14 feet long! They told us in Katrina most of them had escaped including the biggest one of all. Some came back as they like to be fed and cared for! We were the only ones on the airboat ride- which is really like a carnival ride as they run around doing doughnuts and sliding turns in 1-6 inches of swamp! It was fun.
In the morning fog, we pulled out on the highway and headed east, looking forward to Christmas and family
It is great to be back on the road!