On the wunderground weather site I can see the saved weather for the last couple of places we have "lived". It is 18 in Red River, NM, 39 in Grove, Ok, 79 in Stuart, Fl and 78 here in Seabrook, TX.  I like 78!
I wonder how two weeks in one place can seem so long? We like it here for the most part. Texans are nice people, the area is a lot like the gulf shores of Fl, (except fairly crowded!), and we have enjoyed visiting Galveston Beach, and the Kemah boardwalk. But – it is just too many people for us.
Prices for RV spots are ridiculous with the Texas economy booming as it seems many oil workers live in their RVs and travel around to hot spots. RV spots in a crowded park are $50/day and $300 a week! Ouch!
We came here for The Foundation for Exceptional Warriors to get a 37 ft Silverton Yachtfish boat running and sold that had been donated by a Vietnam veteran to help the nonprofit. It took about a week to get Duchess engines going and another week to fix systems, wiring etc. We sea trialed yesterday and put the boat on the market at almost half the NADA value ($14,950) for a quick sale. She is a nice boat! (If you know anyone who wants a super deal on a boat check out the videos here.)
From here we head north and east along the gulf towards our boys in Georgia to spend Thanksgiving in Valdosta. Then it will be back to Stuart, Fl to put that 58′ Hatteras we worked on last spring in the water and maybe get it sold as well.
Our trip south to here from Grove was very enjoyable. We stayed in Oklahoma and Texas state parks each night and can tell you they have some amazingly beautiful properties!
Daddy Buck - Oklahoma
White Pelicans - Oklahoma
Creepy Visitor
Marshmallows!
Daddy Buck 2
Abandoned State Park Airstrip
Oklahoma Sunrise
We did not know that in Oklahoma the pelicans are white and do not dive into the water but swim and lunge at their food! That same park was like an animal sanctuary with egrets, Blue Herons, hawks, seagulls, and more. Then, just at dusk a doe and her young fawn came out of the woods followed closely by a proud dad who was watching very closely and herding the young guy exactly where he wanted him to go. There was no doubt the doe was in charge though! With the sunset and the sunrise, and having the whole place virtually to ourselves, this day was one of THE best ever in a campground.
At one site Shelly found a creepy new pet right outside our door while setting up and watched carefully all that evening for the little guy to come take our marshmallows!
Houston and Galveston Bay are two places we have heard about but this is our first time here. It is kind of strange  as you are driving along surrounded by miles of gas and oil pipelines and refineries and concrete then almost immediately  the scenery is thousands of boats, harbors and tourist restaurants and clubs!
Shelly had some old friends drop by for lunch. Maureen and Marley who both took riding lessons for years at High Country Stables drove down from where they live in Texas. A good time was had by all!
It has been a long time since Goose was all excited about getting into a dinghy and going for a ride! (It used to be the only time he got off the boat!) He was a bit hesitant but quickly settled into his old spot.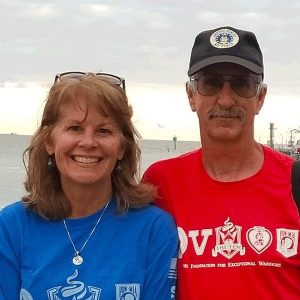 Last week we bicycled down to the Kemah boardwalk to pass out The FEW brochures and wristbands at the Military and First Responder Appreciation Weekend.  After stopping for liquid refreshment, and a walk around the boardwalk, we had an enjoyable ride back at dusk to a restaurant for a high priced, way too much food supper and home.
We both agree as usual.
Time to back the truck up and hook to the RV and get down the road! We'll see you there!