Oklahoma is much different than I had thought it would be. (This happens all the time to me!)  Early October and it is still beautiful weather – warm sunny, breezy days and cool nights for sleeping – but not cold.
Since mid-July we have lived in a beautiful setting, up on a hill, surrounded by huge old oak trees, with tons of wildlife around us. We overlook the lake and the marina which is down the hill a few hundred yards. There is a large herd of deer that drive Goose nuts, the rabbit under the shed right next to us, and lots of little critters and birds.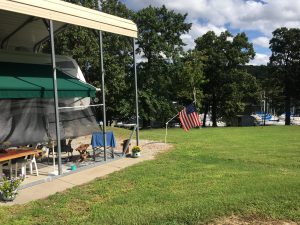 Sometimes, on the weekends, there will be a few people on their boats but for the most part we get paid to sit here and make sure unused boats do not sink at the dock!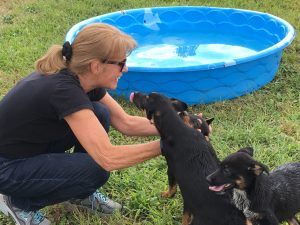 Shelly volunteered to help train some puppies at the local shelter and had a ball doing it. Thankfully she didn't bring any home!
It is time to go. Our feet are awfully itchy to be moving! We have recruited another couple to take our place for the winter and early spring and left the door open to coming back if it all works out.
As usual we have been busy. There were several sailboats requiring attention, including an engine rebuild, lots of canvas work for Shelly as well as projects around the club grounds. We have met some awfully nice people and made new friends!
More importantly, and the main reason we came here, was the work done on the RV. We knew this site had a really nice steel cover that allowed me to do some major repairs.
The bedroom slideout had to removed completely out of the RV by disassembling the bed and all interior trim work, as well as the exterior trim and sealing pieces. Once the slideout was supported by legs, we were able to remove the old floor and install a new one.
The new floor was built prior to the removal of the slide-out and I was really hoping it would fit!
We were able to replace the old floor in a day, then replace carpet, bed, and interior trim so we could use the bed that night. The exterior trim had to be cleaned of all caulking and rusted screws and replaced.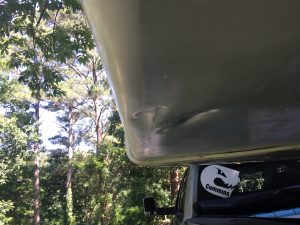 Next was the job of replacing the two 4×6 pieces of painted steel skirt around the hitch that got bent when someone dropped the RV on the truck back in Atlanta. ;-). This one was worrying me until a call to Newmar notified us that not only did they have the two parts in stock but they would ship them to us free for only $140! I was floored.  When they arrived I had the old pieces off and had sanded, cleaned and re-insulated in the framework and was ready for installation.
It seemed easy enough to just use the old pieces as a template and cut the same pattern. Nope. The first piece was too short by almost 4 inches. Bummer. Luckily Newmar had another piece!  That job, though tedious, turned out to really look great!
Next up was a project I had been mulling over for a year. The basement doors on the outside were huge, heavy, vertically hung from the top with no support once they were opened over your head! There was a door on each side of the rv that allows access to the large storage space under the forward bedroom. These things were just wrong but I was not sure about how to fix them.
I finally just bit the bullet, removed them, sawed them in half and hung them horizontally. With some creative use of aluminum channel and lots of trials I have to admit to being a very proud papa of these doors.
Of course,  the sawing kinda  messed up the paint so I had to learn about acrylic paints and how to spray a metallic automotive paint with a compressor. It turned out pretty nice according to my biggest supporter! (After a few trials and lots of sanding!)
Next we tackled the old carpet inside. Once we ripped it out and removed all the layers of 10 years of dirt and grime underneath, a new hardwood replica (teak!) vinyl floor really spiffed up the living area. Shelly is happy!
Last week, knowing we are about to hit the road again, we invested in 6 really good tires for the truck and an oil change and we are good to go!
Tomorrow we head to Fayetteville Arkansas VA hospital for an outpatient meniscus surgery to clean up torn ligaments from skiing in Red River last year. Surgery probably means no skiing this year but we will see!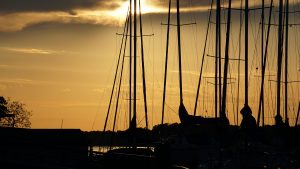 The loose plan is to head south into Texas and then east along the Gulf Coast. We might go back to Stuart Fl to put that Hatteras we worked on last spring in the water.  Christmas will probably be in Asheville NC.
Between here and there, who knows?   If we come back to Oklahoma, it will not be until March at least so we have lots of time to explore.
Any ideas?