It is a blustery, cloudy, grayish kind of day as we head out the channel after 6 weeks at a mooring and anchor in Marathon.
Feels good to be moving!
It will take about 10 days or so to cover the 580 miles to Beaufort SC.  We could jump outside to the ocean into the Gulf Stream, pick up a 2-4 knot current and be there in three days but who wants to work that hard? Not me. Besides we have friends and beaches to visit.
Marathon and Boot Key Harbor is our down time after DC and we enjoyed it.
One of the really nice differences this year is that we were not faced with immediate-need repairs or tons of maintenance.
We p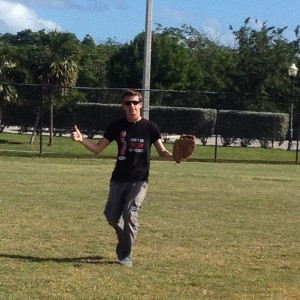 layed lots of softball, chased iguanas with Goose, played some music on Saturdays evenings and generally took it easy.
We did get a couple of projects done including a new wind generator up on the mizzenmast. This is cool as it provides a small but steady stream of power as long as there are winds more than 10 mph or so. At 20 mph it is really cranking out the power which really helps keep the batteries full without having to run the on board diesel generator so much. Nice and quiet, and it is free (once the initial cost is covered by fuel and maintenance savings).
Looking back on the last six weeks I find we were very lax in taking pictures. Often when I write, it is a multi step process as all the images on the iPhone and the iPad must be moved the the laptop, sorted, edited and labeled; then I can remember what we were doing! So if there are no pics I am in trouble…
Shelly learned how to make 'sheet' rugs, and now we have two very attractive new handmade rugs on our new floors. (We replaced our much appreciated foam floors right after getting here. They were in pretty sad shape after three months of Goose and TULLY!)
Speaking of TULLY, he is in one of the prison trading programs in West Virginia and we hear he is doing well. The plan is to bump him with several clients in March. We hope he finds his lifetime home then!
Our thoughts now turn to Beaufort and a huge new project. Shelly and I have been on the periphery of golf tournaments in previous lives , but have never actually put one together, sold it, then played the hosts. This should be very interesting. Another way to raise some more funds for veterans and children with disabilities to get a service dog.
Please! If you can support this project in any way, by sponsoring a veteran player, or a tee or anything, or sharing the story with just a few people who might be looking for a great cause to support – we would be so very grateful. Check it out at paws4people.org/golf
We did have some amazing sunrise and sunset pics from the last few weeks to share. And there will video to come as we move north again.
We are really looking forward to being in Beaufort to watch the spring come in. We haven't spent much time in that area since we were married 30 years ago! Sheesh.
Time flies!