One of the questions we get the most often is "What is the place you like the best?" And the answer is "all of them".
Every single place we have been to had something about it. (Well except for cities – we really are not fond of cities!)  What makes these places so great is the ability to leave them. Islamorada in the Florida Keys is a magical place. Our RV spot was on nice thick green grass, surrounded by palm trees, a banana tree on one side, the ocean and a beach area on the water 200 feet away. Temperatures range from 60 – 90 with warm, balmy breezes almost all the time. It was almost perfect.
But then we started thinking about mountains, and cooler weather, and green trees… and decided it was time to move on.  Now we are excited to be on the road, seeing more great places with another awesome place to compare. How cool is that?
Isn't everything relevant? If you can't compare where you are to somewhere else –  would it not become just 'normal'?  Maybe this is why we travel so much. Every place is new. Every place is different with new sites, sounds, weather, people and things to do.
Today we are in western North Carolina in the foothills of the Blue Ridge Mountains just east of Asheville and it is glorious. And different.
Shelly's Mom is nice enough to put up with us while we have the fifth wheel in for some needed repairs to slide-outs and waste valves covered by an extended warranty so I don't have to do it! The truck transmission is getting a new, deeper pan and a going over and the rear brakes on the truck gets new pads before we head up through the mountains towards Maine.
The very rough plan is to slowly make our way through the Blue Ridge up into Tennessee, on into West Virginia, Virginia, western PA, western New York and then on up to New Hampshire, Vermont and Maine. Looking at a map it looks like it might be cool to check out the Canadian Maritimes, Nova Scotia and Newfoundland.  All new to us. We have no deadlines and no commitments from here on out so we are free to make whatever stops, turns or changes present themselves!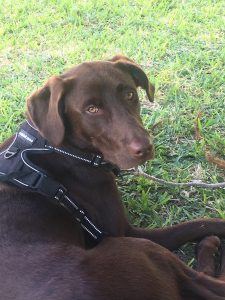 We have less room than before on the RV with the addition of a 1 year old American Chocolate Lab Shelly is training to service. Her goal is to train Daisy to be a scent dog of some kind – peanuts, bed bugs, who knows?  Daisy is cute but she sure is a handful of energy!
There has only been a small travelling break since last July. We worked in Grove, Oklahoma, then renovated and sold the boat in Texas for ExceptionalWarriors.org, on to Ft Pierce, Fl to rebuild the 58 Hatteras, and finally four months in Islamorada renovating a 52′ Bluewater yacht from hurricane damage.
Although it helps to build the cruising kitty, there is a cost. I seemed to have had a run of accidents in the last year or so – starting with a knee issue from teaching snow skiing in New Mexico, to blowing myself out of a dingy with a gas explosion and a skilsaw accident in Islamorada. We both could use a rest period.  We don't heal as fast as we used to!
While in Islamorada, Shelly got the opportunity to swim with dolphins in Theater By The Sea. This park was right next to where we were staying (we walked or bicycled around it at least twice day!) and it turned out to be one of the most rewarding things she has been able to do. It was very interesting spending time with the sea lion trainers and comparing training notes!
As May turns into June and temperatures in western North Carolina climb into the mid 90's, we find ourselves waiting for parts for the RV over a beautiful Memorial Day weekend. As we remember those whose died fighting, and those families left behind, we are even more grateful for what we have.
Today the RV is in the shop being repaired. We hope to be on the road to Tennessee later today and on our way again. In the meantime, we took the opportunity to wash, compound and wax all 35 feet of the RV. It looks nice but the arms sure feel it!
Goodbye beaches and hello cooler weather and mountain hiking!