We left Gangplank and DC at 330 this afternoon and ran down the Potomac under a foresail and engine and the outgoing tide doing about 7.5 knots past Ronald Reagan Airport, the new National Harbor, Ft. Washington and Mt Vernon before dropping an anchor by a small beach in about 8 feet of absolutely flat calm water as the sun sank in the west.
As I write there is a huge difference in our lives. From the last three months of constant noise from the other boats in the marina, the construction of 6 new huge buildings at The Wharf, the metro subway (yes you can hear it go by underground!), the planes from RR airport, and the helicopters all day from and to the White House – to absolutely quiet.
From over 50 fundraiser events at places like Walter Reed, the Pentagon, CIA, FEMA, ad nauseum with two dogs – thinking about where we have to be, when, for how long and how much time to allow for traffic – to just Goose and us and no traffic and nowhere to be.
From being tied to a dock and not moving – to living off the grid tied to the bottom with an anchor and wondering where we will end up tomorrow.
From noise noise noise to
It is awesome.
Not to say we did not enjoy what we were doing because it is an honor to be able to raise money for our veterans in need. And it is also almost a duty to help educate people who send veterans into harms way about PTS and what a service dog can do to help. They are so ignorant. (So were we 5 years ago!)
But this is the life we love and it is so great to be back.
We have the oil lamps lit for heat and light. The fresh crab cakes are on the stove and the red wine is matching nicely. A long day tomorrow should take us to Smith Creek and our favorite sea glass beach!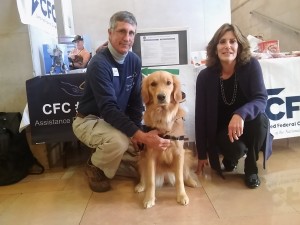 One of the last events this week was the Dept of Justice and we are very appreciative for Abby to invite us and show us around the building. Loretta was a little busy working on her resume and we didn't get to see her! 14 month old SHILOH has moved to her new home after helping us for the last three months. She was a joy to have and we wish her the best.
We had fun driving up to NJ and visiting Ryan for a night (election night no less!) and meeting his friends who are starting an exciting new online company.
I think the one monument we will take with us is the Washington Monument.  We saw this one every day from the boat and almost everywhere we drove. Some day we might even get to ride the broken elevator to the top!
But not this year because we are gone! The plan right now is to make our way south around Fl and go visit Ryan in St Pete Fl. But that is 1400 miles and months away so who knows?
When we do you will be the first we tell!