We have this idea of the Florida Keys as warm and sunny. Surely one would be out lying on the beach soaking up the sun laughing at all those people getting warmly dressed to clear the snow and ice from their windshields to go to work!
It just ain't that way!
Since we got here Jan 11 the wind has not stopped blowing! Cold fronts pass through regularly with the winds going from SE to a gusty 20 mph south then on to a near SSW gale at 30, to end up out of the N at 15-20 with cold air whistling all around as we dingy the dog a mile in to walk twice a day!
It is still better than clearing ice off the windshield!
We left Beaufort just before Christmas for the days sail to Savannah to leave the boat before renting a car to go meet the boys at Shelly's mom's house in the mountains of western NC.
Shelly and I stopped in Atlanta for the first time since selling High Country Stables in Nov 2013. We were able to have two separate get togethers with old friends and Shelly's former riding students and a good time was had by all!
Once we made it to Marion and started unpacking Shelly asked
where the 'other' bag of gifts was? It took just a few minutes to realize that a bag of presents containing small funny gifts with $250 in $20 bills for each son had gotten thrown in the trash can in the marina in Savannah two days previously in Savannah. Uh-oh.
All turned out well as the yard manager found the bag the following morning after frantic phone messages and was able to UPS it in time for Christmas! Whew!
A week later we were back in the yard and launching Yume with new bottom paint and were under way heading south with simply amazing weather.
The first night found us anchored in St Catherine Sound (after passing the island where we lost GOOSE almost exactly a year before) and a nice long walk on a strange beach with lots of dead trees.
In beautiful weather we dropped anchor the next afternoon in Fernandina Beach FL to enjoy some family time.
Amelia Island is one of our favorite places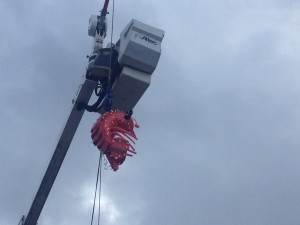 and after hearing the New Years including the dropping of the 'lighted shrimp' of course we had to stay until the following days festivities!
After that exciting evening we ran for a full day to St Augustine where we would hang out for a few days before Ian had to fly back to
Albuquerque. We were very lucky to get the closest mooring to the Bridge of Lyons and the dinghy docks as the weather starting turning wet, windy and chilly!
We drove Ian to the airport in Jacksonville on the 3rd and left on the 4th for the Keys! With the wind out of the north and blowing we flew south. From St Augustine to Titusville to meet up our crazy Australian friend Gary. Then on to meet with friends Joe and Sue who we had not seen in 30 years. These great friends had introduced us to the Bahamas while cruising in tandem a long time ago!
Up early out of Vero Beach and all the way to Palm Beach and Lake Worth to meet up with Dave and Mary on Luck of a Fool – friends from the Keys two years previous.
We like our friends but it was nice to head out the Palm Beach channel to sea the next morning at dawn knowing we did not have to meet anyone for a few days!
What started as a beautiful flat calm dawn turned into south winds at 25 mph and a rough sea by the time we made it to Port Everglades so we tucked back in there to get inside to Miami.
All the bridges (there is one about every two miles in this section!) opened perfectly for us and we made Miami by late afternoon.
Let's leave us here in south Miami at anchorage knowing we are leaving early in the morning for the Keys and we will pick this story up very soon accompanied with all the video!
Goose says hi and won't you come play!